Department of audiology, surdology, hearing and hearing rehabilitation
Accurate and objective data from diagnostic studies and tests for hearing loss people are highly important for effective treatment. The team of our department works in collaboration with the Otology department, Otoneurology department, ENT pediatric department. It helps to determine the exact diagnosis and prescribe optimal treatment for adults and children. We use the most advanced technology and up-to-date equipment for conducting the hearing tests.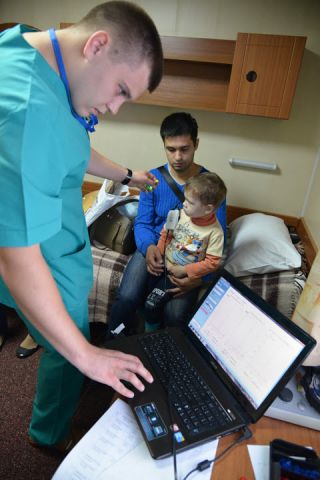 We perform the following tests to evaluate hearing for children and adults:
Hearing study whispered and spoken speech;
Tuning fork;
Tone threshold audiometry;
Tonal over-threshold audiometry;
Tonal audiometry, in a free sound field, including with a hearing aid or a cochlear implant;
Tests of the middle ear;
Speech audiometry in headphones; in a free sound field, including a hearing aid or a cochlear implant, impedance testing, an otoacoustic emission (OAE) study;
Surdopedagogical testing, including a hearing aid or a cochlear implant;
Testing of the amplitude-frequency characteristics of hearing aids
We also conduct:
Consulting on electro-acoustic hearing correction;
Testing of the amplitude-frequency characteristics of the hearing aids of patients (identification of compliance of the frequency response of the device with the patient's residual hearing);
Setting up different hearing aids;
Selection of a wide range of digital hearing aids from leading domestic and foreign manufacturers: OTICON (Denmark), WIDEX (Denmark), BERNAFON (Switzerland), SIEMENS (Germany), Phonak (Switzerland), ReSound (Denmark), etc.;
Manufacture of individual earmolds Sharpening of hearing aid;
Adaptive work after electro-acoustic correction of hearing;
Surgery in patients undergoing cochlear implant surgery;
Determination of indications to electro-acoustic correction of hearing by implantable hearing aids;
Tuning implantable hearing aids.
Pedagogical work with the child is aimed at overcoming speech disorders as:
Disturbance of sound reproduction (incorrect articulation of sounds, omissions, permutations of sounds);
Breaking the syllabic structure of words;
Lexical shortcomings: poor vocabulary, violations of the variable use of words, misunderstanding of the meaning and meaning of the word;
Wrong grammatical formulation of a statement;
Difficulties in mastering the ways of word formation; violations of detailed phrase speech;
Melodic intonation shortcomings: deviations in the voice delivery, violation of strength, height, voice timbre, violations in the expressive means of speech;
Poverty of expressive means of speech;
Communication disorder.
Our research work is carried out in the following areas:
Morphofunctional state of the middle and inner ear in patients after cochlear implantation;
Optimization of audiological test of young patients with sensorineural hearing loss;
Critical parameters of auditory implantation systems;
Rehabilitation of patients with hearing impairment using various technical means of rehabilitation;
Development and introduction of objective methods of diagnostics of auditory function impairment;
Development of clinical recommendations for physicians on profile "surdology-otorhinolaryngology' in the Russian Federation;
Clinical evaluation of implantable and non-implantable technical means of rehabilitation of persons with hearing impairment;
Clinical study of drugs, rehabilitation tools that are being prepared for use on the territory of the Russian Federation.