Department of Pediatric Otorhinolaryngology ( ENT)
The Department of Pediatric otorhinolaryngology offers comprehensive diagnostic and advanced treatment services for children from 6 months to 18 years of age with disorders of the ear, nose, throat and related structures. Our team is concerned with medical and surgical treatment of all kind of ENT pathology. We provide multidisciplinary care and treatment working closely with audiologists, CT- and MRI experts, otoneurologists, phoniatricians and other specialists.
The Center's outpatient office is equipped with the up-to-date diagnostic equipment and devices such as rigid and fibroptic endoscopy, microscopy and other diagnostic tools.
The team of certified physicians performs:
Endoscopic microdebrider adenoidectomy;
M icrodebrider tonsillotomy and tonsillectomy;
Tympanostomy;
Functional endoscopic sinus and skull base surgery ( rare and unique techniques);
Surgical treatment of congenital anomalies of sinonasal region (choanal athresia, severe congenital septum deviations);
Surgery of congenital tumors (gliomas, dermoids, meningoceles, haemangiomas, etc.);
Treatment of nasal septal deviations even for infants;
Reconstructive nasal surgery for patients after treatment for congenital craniofacial anomalies (lip and palate cleft and others);
Surgery treatment of nasal septum perforations, including lesions after aggressive foreign bodies, trauma;
PFAPA-syndrome;
Treatment of chronic rhinosinusitis for patients with cystic fibrosis and primary ciliar dyskinesia;
CO2-Laser and diode laser surgery of congenital laryngotracheal malformations (glottic membranes, laryngomalacia);
CO2-Laser surgery of recurrent laryngeal papillomatosis;
Treatment of acquired laryngotracheal stenosis (endolaryngeal and open approach);
Treatment of head and neck benign tumors.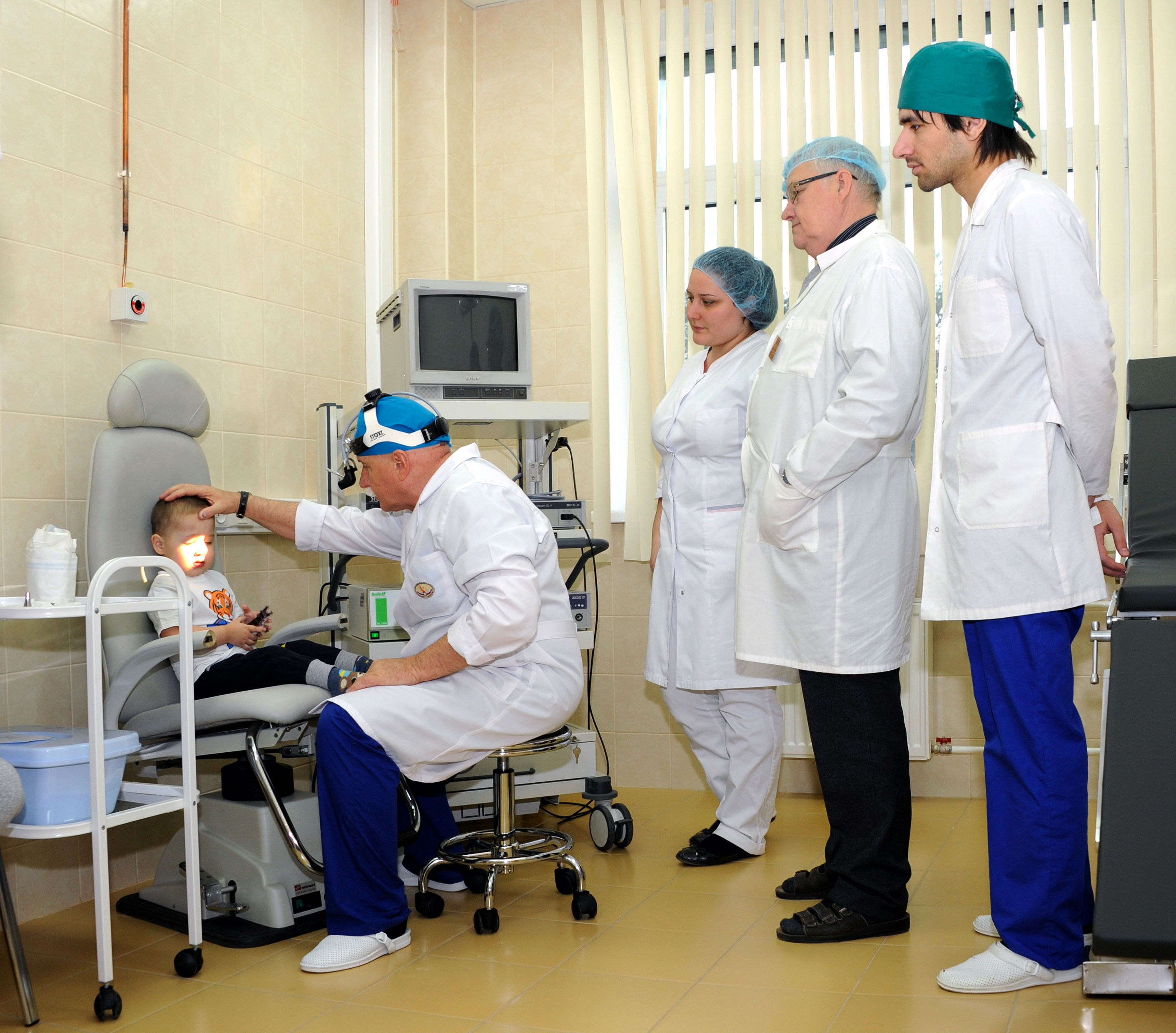 Our otology microsurgery team performs :
Cochlear implantation for infants and children;
Surgery treatment of cholesteatoma;
All types of middle ear reconstructive surgery;
Congenital external and middle ear malformations rehabilitation;
Bone conduction hearing aid implantation and etc.
Children requiring surgical treatment are cared for in our operating room by pediatric anesthesiologists and pediatric nurses who are skilled in pre- and post-operative management of children undergoing surgery. The pediatric department has 26 beds suitable for full day staying with mother/father/caregiver. It also has a lot of toys, videos and reading materials. We try to do our best to create a comfortable and nonthreatening environment for small patients.