Ent department: laryngology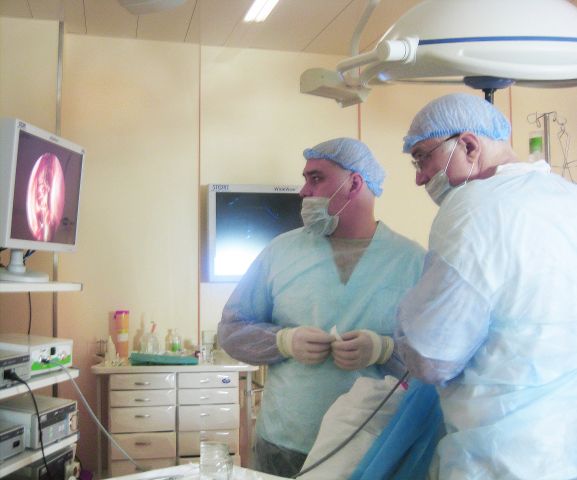 The team of highly experienced specialists performs all types of surgery related to throat disorders, including the treatment of laryngeal diseases, surgical treatment of all types of benign and precancerous larynx diseases ( such as - Fibromas, Polyps, the Reinke's edema, Laryngeal amyloidosis, recurrent Papillomatosis of the larynx and others), surgical treatment of Laryngeal cancer. We use the most advanced technology and up-to-date surgery techniques to treat our patients with maximum safety, before, during and after surgical intervention.
We perform:
All types of Endolaryngeal chordectomy;
Endolaryngeal removal of benign (non-concerous) laryngeal formations;
Surgical treatment of the lateral cyst of the neck ( Branhyogenic tumor);
Reinke`s edema;
Polyps;
Larynx papillomatosis ( CO2 Laser);
Surgical treatment of cicatricial stenosis of the larynx, cervical trachea, congenital or acquired after surgical interventions;
Surgical treatment of Paralysis of the vocal folds;
Surgical correction of the vocal apparatus, including changes of the tembral voice characteristics..
All interventions are performed with the maximum use of modern methods of micro laryngeal surgical treatment of laryngeal diseases (CO2 Laser, etc.), observance of the principles of phonosurgery (maximum preservation of voice quality), surgery without tracheostomy application.
The development and active implementation of new methods for treating laryngeal diseases is being carried out the balloon plastic of stenosis of the larynx and trachea.